Standard Podcast
[ 1:02:21 ]
Play Now
|
Play in Popup
|
Download
The Tim Corrimal Show
Episode 351 – September 6, 2015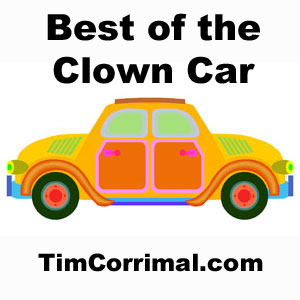 On the Best of the Clown Car, Volume 4 episode of The Tim Corrimal Show, I am joined by Joe (@Marnus3 on Twitter) from The Poorly Written Political Blog for some of the best Clown Car segments from the show featuring the fabulous songs from our great friends Rocky Mountain Mike (@RockyMntnMike on Twitter) and Lauren Mayer (@LaurensComedy on Twitter).
Be sure to follow me, @timcorrimal on Twitter and join the fun.
The Tim Corrimal Show is available on the Stitcher.com Mobile App for your Smart Phone or Tablet as well as in iTunes.  The show is also now being broadcast on Netroots Radio at 8:00pm Eastern at Mondays at netrootsradio.com.  You can also listen to the show on IndieMediaWeekly on Mondays and Wednesday from 8:30am to 9:30am Eastern and Thursday from 7:00pm to 8:00pm Eastern at http://indiemediaweekly.com/how-do-i-listen-to-indie-media-weekly-radio/.
Check out Rocky Mountain Mike's album "Politically Incoherent" at Amazon.com or on iTunes at https://itunes.apple.com/us/album/politically-incoherent/id713134020.
Check out Lauren Mayer's new album "If My Uterus Were a Gun (And Other Musical Rants from the News)" at Amazon.com or on iTunes at https://itunes.apple.com/us/album/if-my-uterus-were-gun-other/id885138640.  Her CD's are available at http://www.cdbaby.com/cd/laurenmayer8.